Dr. Qiang Lee, Ph. D.; OMD.; Instructor; L.A c.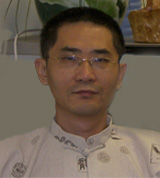 Dr. Qiang Lee graduated from Guang Zhou University of Traditional Chinese Medicine (http://www.gzhtcm.edu.cn ), China, in 2000. After he completed his one year internship at Shen Zhen Traditional Chinese Medicine Hospital ((http://www.szszyy.cn) in China, he came to the United States and continued to further his Chinese medicine education at Samra University of Oriental Medicine in Los Angeles, and received his Master's of Science degree in Acupuncture and Oriental Medicine in 2003. He then attended Yuin University in Compton, Los Angeles, and received his Ph. D. degree in Acupuncture and Oriental Medicine in 2005.
Dr. Qiang Lee has been a faculty member and instructor at Kingston University since 2005. He currently teaches acupuncture and Chinese herbology and herb formula courses for Master's of Acupuncture and Oriental Medicine Programs (http://www.kingston-edu.org).

Dr. Qiang Lee is also an active member of the China Association of Integrated Medicine of TCM and the California Acupuncture Medical Association.
Dr. Qiang Lee became a California State Licensed Acupuncturist in 2003 and since then he joined a medical group specializing in workers' compensation where he specifically treated patients who required pain relief management. With his busy practice of seeing more than 20 patients a day, he helped thousands of patients suffering from various pains and neurologic-muscular disorder.
Dr. Qiang Lee has several areas of special interest including:
Musculoskeletal pain: Neck pain, Back pain, Sciatica, Frozen shoulder, Joints pain
Tennis elbow, Carpal tunnel syndrome, Tendonitis
Migraine headache, Bell's palsy, Fibromyagia, Multiple sclerosis
Injuries due to work, sports and car accidents
 Digestive disorders: Acid reflex, IBS, Constipation, Colitis, Diarrhea
During his education in China, Dr. Qiang Lee specialized in treating lingering skin ailments and has effectively helped many patients relieve skin illnesses that were resistant to traditional western medication and treatment, instead implementing acupuncture, herb teas and topical herb medications.
Dr. Lee is specialized in treating the skin problems including:  
Eczema, Acne, Allergy
Psoriasis, Dry skin
Dermatitis, Rashes and itching
Bacterial / Fungus infection